Your daily business operations are too complicated and time-consuming? For your current approval processes, you have to login to multiple systems to collect all necessary information – like Microsoft Outlook, SAP S/4HANA, SAP Fiori Launchpad and Microsoft Teams? If yes, this is for you!
Convenient, efficient and flexible
By integrating SAP S/4HANA with Microsoft Teams, you will be able to approve or reject your business operations directly in Microsoft Teams. Using an integration that is based on SAP's Business Technology Platform (BTP), you will receive a notification in your Microsoft Teams app as soon as a new approval process is awaiting your approval. Once opening the Microsoft Teams app, you can review all relevant information on which you can base your decision on. Approving your business operations directly in Microsoft Teams is convenient and speeds up your approval processes.
Using Neomore's SAP to Microsoft Teams integration, you will be able to approve your business processes directly in Microsoft Teams – on desktop and smartphones. It integrates well with your existing standard S/4HANA approval processes, supports multi-level approval processes and multiple approvers per approval step. All approvers and managers will receive notifications in Microsoft Teams to verify the details and based on that information, they can either approve or reject the business object directly in the Microsoft Teams app. The approval status, approver name and time will be updated in real time in SAP S/4HANA, SuccessFactors, SAP Concur and other backend systems. Once approved/rejected, the approval status will be synchronized as well to the Microsoft Teams client of all other approvers.
Technology Requirements
The SAP to Microsoft Teams integration by Neomore uses state of the art and future-proof integration technologies. Using standard remote APIs, SAP Event Mesh and SAP Integration Suite capabilities, we follow the clean core approach by SAP. Security best practices make sure, the integration is highly secured with Single Sign On, principal propagation, SAML and OAuth authentication. The following technologies are involved in Neomore's SAP to Microsoft Teams integration:
SAP S/4HANA

Standard approval workflows
Standard remote APIs (see api.sap.com for details)
Event Mesh Capabilities

SAP Event Mesh
SAP Integration Suite
Custom app running on SAP BTP in CloudFoundry (CF) environment
Microsoft Teams
Supported processes
The approval process of source-to-pay, lead-to-cash and recruit-to-retire, our solution covers it all with SAP S/4HANA on-premise, S/4HANA Cloud, SuccessFactors and Concur directly in Microsoft Teams. Neomore's SAP to Microsoft Teams integration is very flexible, supporting your existing standard or custom approval processes. Let's get in contact to discuss your specific requirements and needs.
Demo
An end-to-end solution demo based on the standard Purchase Order approval workflow is available via the following link. This powerful and flexible integration can be applied to any other workflow or business process in SAP and beyond.
Watch the demo here!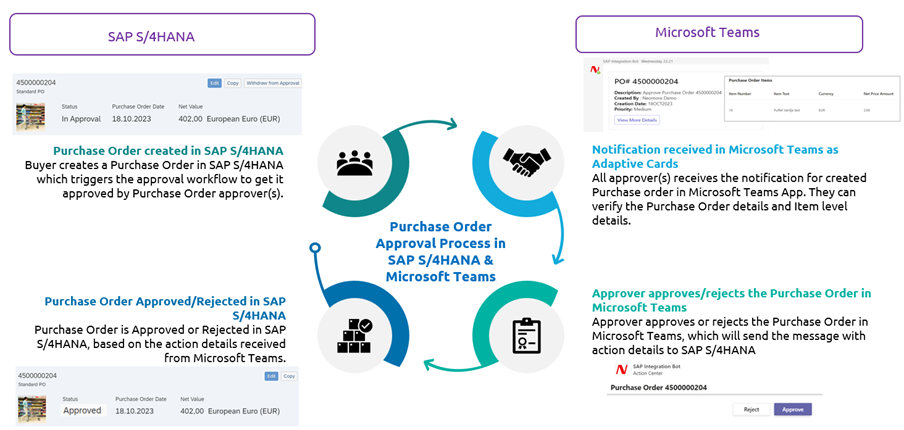 The high-level architecture of the solution is shown below.

If you are interested and would like to know more details on this topic, then please feel free to contact us at sales@neomore.fi.