NEOMORE

SMART MILL

SOLUTIONS
Neomore's Smart Mill Solution digitizes and automates the whole factory logistics process and makes collaboration with suppliers more efficient through self-service portal.
"There is always something to improve and ways to become even more sustainable. By optimizing inbound delivery flows we can avoid traffic jams and waiting times. This means reduced CO2 emissions and improved efficiency and therefore improved sustainability."
Christian Stögbauer​
Service Owner Plant Maintenance, RCP & Energy
UPM
BENEFITS OF
SMART MILL

SOLUTION
Increase sustainability with smart operations
FOR THE END USER
Easy and quick to learn and use

All relevant data available

Data stored in correct locations

Visualized data improves usability

Self-service portal supports work
FOR THE ORGANIZATION
Digitalizes and harmonizes factory logistics

Better collaboration with suppliers and haulers

Automates whole inbound process​

Efficient time window management for delivery planning

Ensures booking data​

Efficient use on mill capacity​
Continuous inbound deliveries to manufacturing facilities is a challenging logistical operation. Tasks such as scheduling the deliveries, managing the vehicles on site including verification at the gate, weighing the vehicles upon arrival and departure, unloading the cargo and quality inspection of the cargo require a well-managed and integrated process.
But still, in too many companies the process is disconnected and based on manual work which causes errors and loss of time.
Neomore's Smart Mill Solution digitalizes and automates the whole factory logistics process. It is an end-to-end solution including several integrated applications covering all phases of factory logistics. Digital Mill Solution enhance customer's collaboration with suppliers by a self-service portal. It allows suppliers to schedule and plan the deliveries by themselves.
Smart Mill Solution applications are built on SAP Fiori to guarantee excellent user experience. They run on SAP Business Technology Platform and are integrated with SAP Logistics application. Smart Mill Solution supports both SAP ECC and SAP S/4 HANA.
Applications
Delivery scheduling application for suppliers
Scheduling application for internal users
Self service application for truck drivers: registration & weighing
Control room application for monitoring deliveries
Quality inspection mobile application
Goods receipt
Features
Mobile & desktop

Enables barcodes

Automatic imaging of vehicles at the gate (OCR)

Drag and drop user interface

Integration to factory weighing software

Scalability to all deliveries

Quality inspection functionality

Support unloading and storage of the cargo in the warehouse
Requirements
SAP Business Technology Platform

Supports both SAP ECC and SAP S4/HANA

 

Mobile, tablet or desktop devices
Integration platform such SAP BTP Integration Suite
Architecture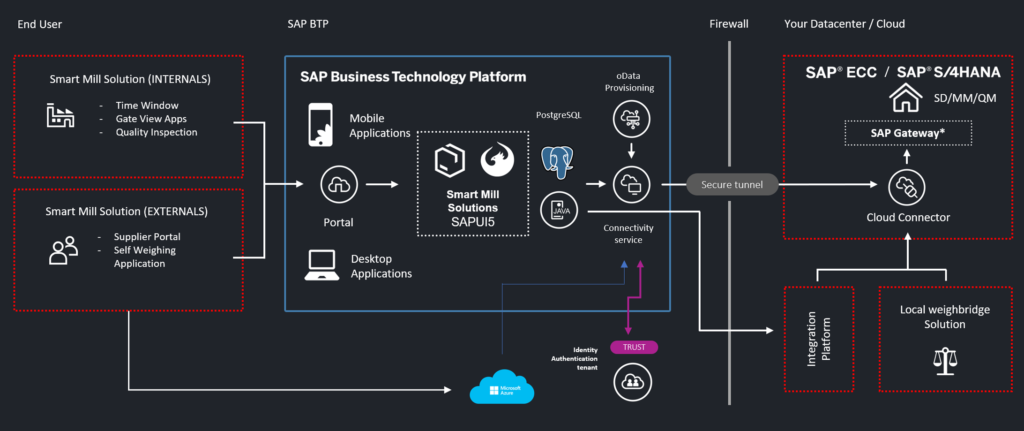 "UPM RCP is aiming to bring the collaboration with our suppliers and haulers to a new level with interactive applications. Target is to balance the inbound deliveries and optimize the transparency and process flow for all stakeholders with Digital Gate View and Time Window Management."
Christian Stögbauer​
Service Owner Plant Maintenance, RCP & Energy
UPM
"All applications in the Smart Mill Solution are built on SAP Fiori to guarantee excellent user experience. They run on SAP Business Technology Platform and are integrated with SAP Logistics application."
SAP UI/UX Consultant
Neomore